AltimeterTwo is an instant flight analysis tool for model rocketry, no computer required. It is small enough to fit in most rockets, and it provides 10 key flight performance measures on its sunlight-readable screen for each flight, including max altitude, top speed, engine thrust duration, peak acceleration, ejection timing, and total flight time.
No batteries required. AltimeterTwo is rechargeable and includes a recharging cable that works in common USB ports.
Approved for National Association of Rocketry contests.
Will only work for model rockets.
| | |
| --- | --- |
| Size: | 49mm x 18mm x 14.5mm (1.9″ x 0.7″ x 0.57″) |
| Weight: | 9.9 g (0.35 oz) |
Description
---
A rechargeable digital altimeter (for model rockets only) that analyzes flight altitude, acceleration, top speed, flight duration and 6 other important flight statistics.
The AltimeterTwo retains the rugged design, easily-readable LCD, small size, and rechargeability of the AltimeterOne. With the addition of a 3-axis accelerometer and a 4X speed increase in processing speed, it can provide a full suite of important flight statistics that can help you analyze and improve your rocket's performance.
AltimeterTwo has been approved by the National Association of Rocketry for use in rocketry competitions.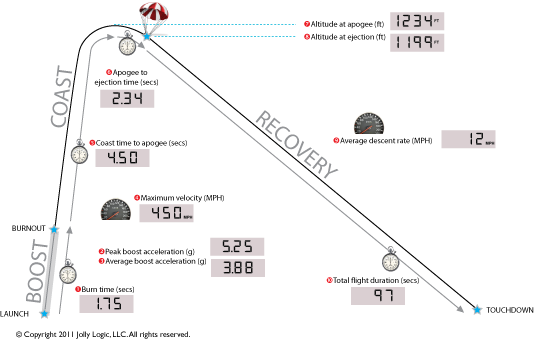 (Click the image for a larger view.)
Features
---
» 3-axis, 24g accelerometer can detect launch, acceleration, speed, ejection, and landing
» Accurate 19-bit barometric pressure sensor sensitive to altitude changes of less than one foot
» Daylight-readable LCD display clearly displays all flight statistics−no computer needed
» History feature stores last 100 flights
» Rechargeable Lithium Polymer battery lasts for hundreds of launches, no batteries to buy
» Recharges in less than 2 hours from any standard USB port (cable included)
» Samples pressure 25 times/second, and acceleration over 250 times/second
» Power button turns device ON/OFF and RESETs the display between flights
» Automatically powers down after 2 hours to conserve power
» Handy tether point allows secure attachment
» Rugged ABS construction to survive crashes
» Approved for use in official contests
» Displays results in either English or metric units